If it's the first time you are visiting our website, here is a little insight to who we are. SocialCities was founded in 2014 with an initial team of 5 software developers and digital strategists to create our very own project, LocalJob. Launched as an innovative Startup, it has won numerous awards, such as TIM WCAP, Amazon Web Services and StartUp Chile. During the development of LocalJob, we began offering services to other companies and professionals thanks to our technical and marketing know-how. Using our digital solutions, technologies, programming languages and marketing strategies we have an important task: to take you to New Digital Destinations.
We have built a team with various skills: from software programming to design, from marketing to Apps development, from ecommerce to startup consulting. This allows you to have a one stop solution for all your digital needs.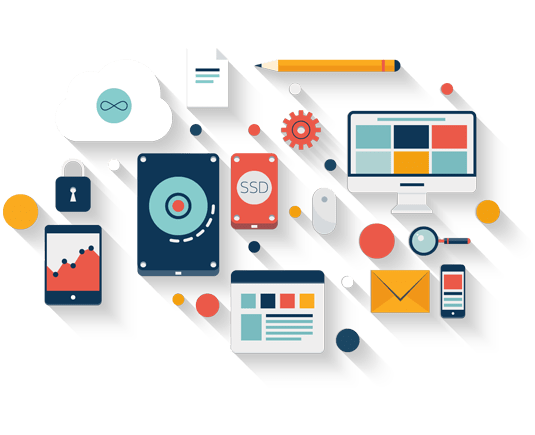 Marketing is made up of a series of tools which companies can and should use to identify the right target, web presence and SERP optimization, budget and channels to achieve their business objectives and stand out from the competition.
Mastering the web marketing tools and practices, and knowing how to integrate off and online strategies is our task.
We help you identify and reach the right market niche through the technical and content optimization of your website (SEO) to allow your company to gain visibility in search engines.
We structure online marketing campaigns (SEM) to run lead generation campaigns, to advertise products, services, promotions and brands, in both search engines and social networks.
Our web agency also accompanies you in opening and managing social netowrk profiles (Instagram, Facebook, Twitter, LinkedIn, Pinterest, Google+, Youtube) and the creation of email marketing campaigns (DEM).
We strongly believe in the importance of the visual element, especially in a world where there is always less time for the fruition of content. We can assist you in choosing shapes, colors, fonts and images that identify your company and help stand out from the crowd.
Our graphic team will help you with logo creation, elaboration of the style manual and the creation of a complete set of online and offline products you may need and that will represent your business.
We have first hand experience of what it takes to manage a startup: our proprietary project LocalJob is considered an innovative startup.
Precisely because we have seen (and live through everyday) in first person all the phases of the life of a startup, we can support you from the birth of your idea to the complete realization and development.
Whether it's technical and financial aspects (access to fundings, trademark registration, contacts with startup incubators and accelerators), technological aspects (website development, apps, ecommerce or software), or marketing and design (brand identity, market analysis, business and marketing plan), SocialCities will be by your side.

We have entrusted our presence on the web to SocialCities to get back our leadership on the web. We are extremely pleased to be in the first positions in every SERP and we have increased our visibility. SocialCities succeded fast, with great innovative and creative skills.

By entrusting my online business to SocialCities, I have found the professionalism I needed for my website. SocialCities has also implemented the MOBILE APP, which is simple, efficient and perfectly functional. The company has been able to shape my ideas and requests in a creative way, but above all, in a consistent and efficient manner.

We were looking for a quick and user friendly tool to better spread the scientific initiatives of our research group. SocialCities has collected our graphic and functional requests with great professionalism and creativity. The result is an eye catching website that is functional to our needs and obtains the results we were looking for.
At this point you have understood who we are, what we do, what we offer and what our clients have to say about us.