Differences compared to  the old approach
Before trying to understand why inbound marketing works, let's see how the old approach was. Traditional marketing (or outbound marketing) is a sales strategy which interrupts and breaks into consumers' daily life.
Outbound marketing includes activities like buying advertising spaces, mailing lists and of telemarketing (cold-calling). This method focuses on the product and over time has become annoying to consumers.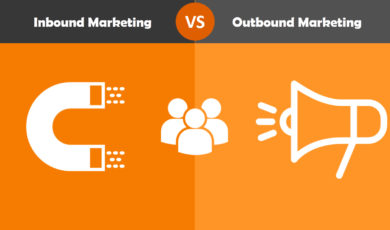 The core of Inbound Marketing is making available to people what they need exactly when they are more inclined to listen.
When a user has a problem or a necessity he searches for an answer online. This is where your company needs to be at the right moment, in order to give answers and reply to the request for information. How can we make this possible? Through content.
When you create valuable and quality content your company spontaneously attracts people who are interested in your product.
Regularly publishing useful content allows your website to attract the right viewers. You can convert them into customers and secure their loyalty over time.
Unlike traditional marketing, all the stages of inbound marketing strategies are trackable. All of the Inbound Marketing actions taken should be analysed: it is of utmost importance to know what is working and what is not, in order to improve the performance or find new solutions.
Inbound Marketing has its origins in the United States and since 2005, it has replaced traditional marketing and proved to be a more effective and successful strategy for companies.
Inbound Marketing offers custom-built content that answers their questions, meets their needs and finds solutions to everyday problems.
What about you? Do you want to continue with traditional marketing like in 2004 or switch to inbound marketing?
4 stages of Inbound Marketing
Inbound Marketing is a dialogue between people and companies. It is a customer-focused method, as opposed to the old product-centered strategies. This new approach is all about commiting in a marketing activity that people love. Let's see in greater detail the stages of Inbound Marketing:
Attract: the first stage is all about attracting new users who don't know your company, leading them to your website and turning them into visitors.
Convert: the conversion process allows your website's visitors to become contacts. This means they leave you their details (e.g. name and email address) in return for interesting and valuable content.
Close: during this stage your company sells its products or services to the right buyers who afterwords become actual customers.
Delight: never forget about your customers, they chose your company! A delighted customer is a happy promoter. Involving your clients with valuable content serves a dual purpose: they will continue buying your products and  will promote your company through word-of-mouth.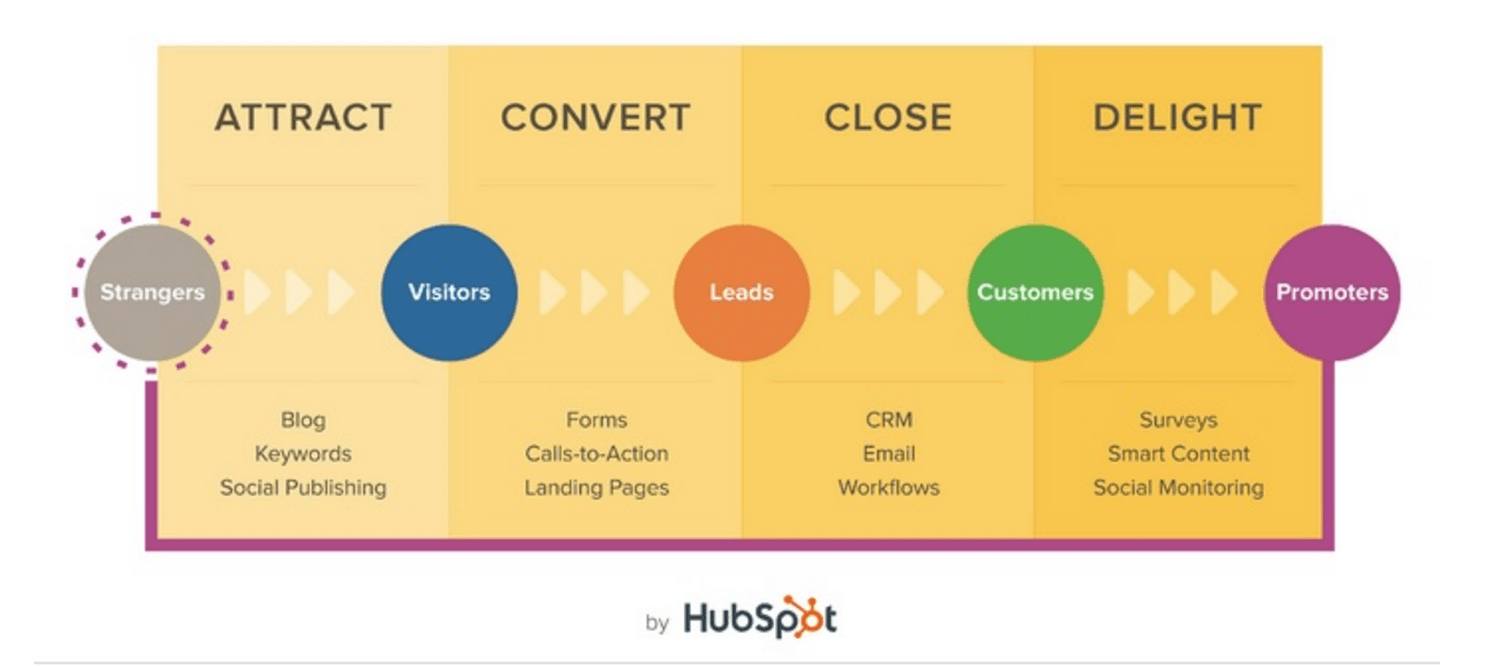 Inbound Marketing is the beating heart of your radical change in marketing strategies. So why not to find out more about the 4 stages of Inbound Marketing and the tools to use for each one?

Inbound Marketing best practises
Before we put into practice what we learned, we should understand the driving force behind the success of inbound marketing. In order to meet the economic growth targets at a lower cost you should acknowledge the importance of client education. Always bear in mind that relevant content leads to smart decisions.
What are the Inbound Marketing tactics you should keep in mind in order to achieve these results?
Buyer persona: a profile that depicts a target-customer. It is based on research and some conjectures about age, gender, behavior, motivation and goals. Why is it so important? Because when you create and deliver content you should always bear in mind a well-defined profile, the words he/she uses and the channels where he/she is active.
Buyer's journey: buyer persona's journey towards purchase. This is essential because your customer might have different needs during the stages of the purchase and you should always have the right answer for each step.
Content marketing: obtaining and securing customers through content creation and sharing. Why is it important? Because content is the meeting point between your company and the customer.
Inbound Marketing tools
Inbound Marketing strategies require a multi-channel approach and suitable tools for each stage.
What do you need in order to manage the best way each stage of an Inbound marketing strategy and to make the most of your campaigns?
keyword search software (including competition level)
company's blog managing tools
brand monitoring tools (what are people saying? who is talking about it?)
social media post plan
marketing campaigns monitoring and managing software
call to action, landing page and thank you page creation tool, with a/b test
platform able to make the best of marketing automation
performance monitoring tool, able to cover all the website
What would your reaction be if we were to tell you that there's a software that includes all of the features to manage your inbound marketing strategy?
Hubspot marketing software offers your company everything it needs to organize, manage and launch effective inbound marketing campaigns.
SocialCities' team decided to become a Hubspot partner because Hubspot is one of the best tools for companies that want to live the online dream.
We are able to offer consulting services for Inbound Marketing campaigns and we will follow you throughout the journey, transferring our expertise.
What about you? Do you want to continue with traditional marketing like in 2004 or would you prefer to switch to inbound marketing?
It is not easy to choose an agency you can trust with your inbound marketing strategy. This is why we want to offer you an hour of free consulting in order to give you the chance to get to know us and discover whether we are suitable for your company
TOOL BOX
How to implement an inbound marketing strategy
Content Marketing
In inbound marketing strategies effective and quality content is everything. You should always try to create interesting content for your users. Our content creating strategy is not an end in itself, instead, it is essential concerning with goal achieving and increasing your turnover and the number of customers.
CTA, Landing Page, Thank You Page
We know how to create the perfect conversion process for you. It consists of several phases during which a user becomes a potential customer for your business.
Marketing Automation
We set up strategies in order to facilitate your work. They allow you to be always by your customers' side thanks to marketing automation techniques.
Workflow
A proper workflow will allow you to coordinate selling procedures with the people involved, marketing automation techniques and the conversion processes.
Hubspot Marketing Software
HubSpot Marketing features all of the tools a digital marketing team needs to generate more leads. HubSpot Marketing has two benefits: state-of-the-art solutions and a cutting-edge method, Inbound marketing.
Hubspot Analytics
HubSpot Analytics is a marketing software that allows you to analyse data, keyword performances, landing pages, call to actions, social network and much more.