UX (User Experience), UI (User Interface) and Usability consulting
User experience refers to the experience a user has/enjoys when navigates a website (or other platforms). User Interface is the set of pages, the buttons and all of the other components that allow a user to navigate. Usability is a platform's ability to be used and allow users to do specific actions. These are key elements in company-user communication, therefore should always be created with a robust strategy.
How can we help you to improve your website, you app and your e-commerce site's UX?
We analyse the data from Web Analytics. We use recent patterns and guidelines to develop your projects. We engage your users in usability test on wireframes, mockups and prototypes.
Why should you care about UX, UI and Usability?
Perhaps you are wondering how these features can condition your business and why investing your money in improving user experience is worth it.
The answer: a good user experience affects the acquiring of new customers, the increase of the number of people that use your product or your service, the long-term ability to engage users and, last but not least, the revenues generated by the product you have chosen to launch.
It's all about users.
It's all about users and their satisfaction. This is why we need to carefully plan the way in which a user interacts with your company. User experience study is essential, doesn't matter if we are talking about a software, a landing page, an app, an e-commerce or a website. Otherwise the risk is the lowering of customers' loyalty and conversions' number (detail release, purchase, etc.). If a user cannot understand how to use a landing page or how to search for information in your website he/she will leave and that will be a wasted opportunity for you.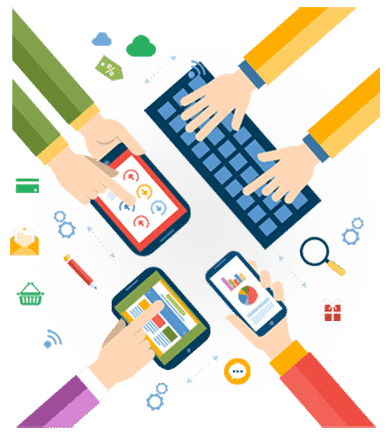 Just to give an example: you have a good UX when you insert a clear call to action in your page.
Let's take us as an example: if you're reading this page it is probably because your are looking for information on an agency that can support you with UX, UI and Usability improvement for you online channel.
It's our job, therefore, to offer you a clear navigation. This means that you can easily find the "get a quotation" button, so you will be able to get in touch with us and ask for information on our service and its cost.
How can you optimize your platform's Usability?
There are some tools, like Web Analytics that allow us to analyze and inspect users' traffic flow, dwell time on the website and on exit pages. Thus it is possible to have an idea of what should be improved on a website and plan A/B tests.
As regards to larger plans, however, this data is not sufficient. It is necessary to carry out usability tests with user sample groups who will have to test wireframes, mockups, prototypes or the final project.
What are wireframes, mockups and prototypes?
Wireframes, mockups and prototypes are vital tools when we have to design the platform's structure and improve its usability. They allow us to agree on a project's features before we dive into the development phase and they show several levels of resemblance to the end result. They can be more or less thorough in content and interactivity, therefore you should choose the one that suits your needs, your budget and the time you have at your disposal. Users' sample groups can carry out usability tests thanks to these tools.
TOOL BOX
How do we implement website and app Usability?
Wireframe
Wireframe lays down the guidelines for a project. It is to be considered a project's first draft and it is helpful in putting on paper an idea, organizing content and the areas of the platform.
Mockup
Mockup is Wireframe's evolution. It is not a simple draft, it embodies the final result and it's more faithful to it. A mockup shows every single detail and feature, both with regards to content and functionality. However, it is still just a static framework.
Invision
Invision is a powerful dynamic design tool that allows us to create prototypes for websites and applications. Thus we will be able to write down feedbacks and comments exactly where they are needed and see updates and workflow, in order to express our opinion on the project.
Usability Test
Usability test: that's what they call "prototype". It is interactive and allows you to carry out the first tests on your product and hold in your hands what will then become the final result. You will get first-hand experience of the end product and this is of utmost importance because the very first tester are you.
Focus group
Focus groups are a methodology for investigation that uses group interviews in order to collect information and statistic data on the subject of the survey. It allows us to see what are customers' spontaneous reactions on a product, thus we will be able to determine its approval rating.
Eye Tracking
Eyetracking is a tool that enables the measurement of the attention level when performing a task or seeing a product. It's possible to assume one's attention level towards one or more objects, their way to process information and strategies in website exploring.