The amount of mobile app accesses has skyrocketed.
No need to take a look at the statistics. Just look around you. Do you see how many people spend their day with their eyes glued on the smartphones? With the right market analysis and a professional project someone out there could be your potential customer!
Nowadays it is essential to be in all the stores with state-of-the-art applications, the strengths of which should always include usability and creativity, and SocialCities' team is well aware of that. Therefore we create cross-platform applications, for iOS, Android and tablets, and we provide the perfect solution for your needs.
How does our team develop your app?
We guide you in your choice between hybrid or native applications, or just a simple responsive adaption of your current website.
We develop the perfect app for your business, keeping in mind your goals and your company's features.
We promote your business thanks to content optimization and marketing campaigns, all especially designed for your app.
Hybrid, native and web app:
which one is more suitable for your project?
Native apps are developed specifically for an operative system. This means that an iOS application does not work on an Android system and vice versa. The main benefits of a native app are fewer limits and higher speed. The disadvantages are higher cost and difficulties when switching to other platforms.
Hybrid apps are more versatile: it is sufficient to program just one app and it will be possible to use it in all operating systems. This will save you the trouble to choose between operating systems.
Web app don't have any differences in platforms, development system or programming code. Therefore they don't need to be downloaded on your devices and work like a website. They cost less but don't work if you are not online. Moreover, usually they are slower than normal applications.
Which of these is the perfect app for your project? You can't really tell unless you know how much time you have, what is your budget, what are your project features, what is your target audience and several other variables.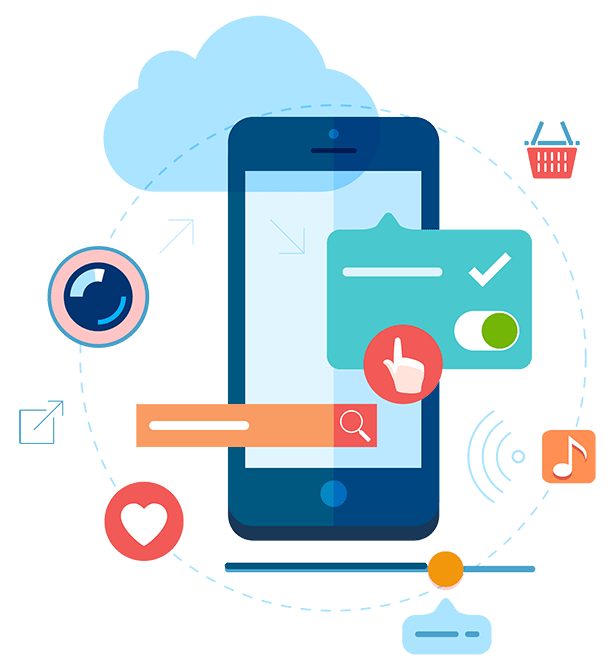 Why should you choose us?
We can give you meaningful references. For instance, our very own application LocalJob has won several awards since the beginning (2013).
Not only we have built dozens of apps for third-parties, our team has also developed its own project, LocalJob. It relies on the meeting between service providers and customers and on geolocation. Thanks to our app private individuals are able to have a quotation for house maintenance works. On the other hand, registered professionals (electricians, house painters, plumbers, etc.), who are spotted thanks to geolocation, receive the request and are able to reply giving a quotation and specifying whether they are available or not.
LocalJob has been considered an innovative startup and has won many awards, including TIM#WCap, Startup Chile, The Hive and Amazon Web Services. We want to mention some of the investors who believed in us: Innovami, Centuria, TIM, UniCredit and Invitalia. We are very proud of all the times a national or international newspaper has talked about us, including Il Sole 24 Ore, Corriere della Sera, SKY TG24, Wired and Il Resto del Carlino.
We should talk about the project and decide together the path to follow
Android and iOS
Android and iOS are the most important mobile operating systems. To build applications that are able to fit both systems is of utmost importance in the mobile world.
Tablet and Smartphone
One of our goals is to develop applications that are perfect for smartphones and tablets of all sizes, so you can use your app anywhere.
Ionic 2
Native applications for both Android and iOS require time and large amounts of money. This is why we give you the opportunity to build cross-platforms apps with the best programming language: Ionic 2
Design and UX
An attractive design and a good User Experience are the most important things for your app and will make your users happier.
Even a minor detail can make a difference. If a user cannot use the application or do what the app is designed for, it's all because of the bad design and the even worse user experience.
Push notification
Notifications are important in applications. They allow us to always remember to do something that we may have forgotten, to reply to a message or they suggest us specific actions.
Backend and CRM
Once your app is ready, you will have the key. You will have access to the database and will manage the interactions with your clients.