E-commerce is a great opportunity to open up your business to the whole world, without limit in space or time.
Whether to open an e-commerce site or not is a choice you should make only after some research aimed at verifying the competitiveness and saturation of the market you are willing to enter. Most sectors are dominated by international players and thousands of competitors, therefore, we support you in the process of evaluating your product's strengths, choosing your target and the budget you should invest in advertising and communication.
This is how SocialCities builds your e-commerce.
We analyze your needs and necessities in order to choose the best technological solution for you. We manage your payment gateway and grant you the highest safety measures when handling payments with credit cards and paypal. We support your work, from customer service to billing, up to writing your contract and terms of service.
E-commerce market in Italy
Source: IDC processing for assintel report 2018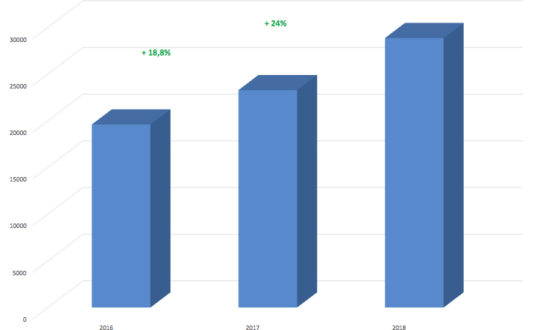 | | | | |
| --- | --- | --- | --- |
| Year | 2016 | 2017 | 2018 |
| e-commerce (millions €)] | 19600 | 23276 | 28855 |
Do you want to talk about your e-commerce and understand what platforms, investments and marketing actions we recommend? If the answer is yes, we offer you an hour of free consulting.
Creating an e-commerce means to study customers' purchasing processes. The boundary between the online and offline worlds isn't defined and when buying, customers don't always follow linear routes. Therefore, it is essential to have a 360-degree view on the market and on the target.

Customers' purchasing process analysis. Analysis of the target and the strengths of the product you want to sell on your e-commerce site.

Integrations to your e-commerce site in order to manage your warehouse, the payments and the bills. It's easy and safe.

Complying with Cookie Law, Privacy policy legislation. Writing contracts and terms of service. Sounds complicated, right? We have you covered.

We offer positioning and advertising services for your e-commerce. Higher the visibility, higher the conversions.
If you want to open an ecommerce, you surely have a keen business sense.
This means you know how to strike a bargain when you sniff out one and today we are yours.
To enter the magic world of online selling and to reach a wider customer base you can follow two paths. The choice depends on the type of business and on the budget:
you can use already existing platforms (prestashop, woocommerce, magento, etc.)
we can create a custom-made e-commerce platform
Either way, we plan the best strategy in order to generate traffic and high conversion rates. Moreover our marketing team can help you in managing content, advertising campaign and social media.
One of the most thorny aspects in the building of an ecommerce site is the creation of the operator interface and user interface.
On the operator's side, Socialcities' team always aims to build an intuitive panel with simple features when inserting or modifying your products. We also create softwares in which we integrate your e-commerce with the management softwares in order to grant you the opportunity to control both the warehouse and the billing in one place.
For the user interface, we aim to make categories, products and information easy to find as we support the user throughout the purchasing process. Classifying products in a proper way and make sure they have detailed descriptions allows users not only to easily navigate in your site but also to position higher in search engines and facilitate the indexing.
WooCommerce
Built to integrate perfectly WordPress, it's an e-commerce plugin that allows you to sell everything most efficiently. WooCommerce is the perfect solution for those who want a lean management and sell a limited number of products.
Magento 2
Magento 2 is a flexible, customizable and open source platform. Performance is everything in Magento 2 and allows us to create a unique platform, and to differentiate your brand. It is perfect for those whose number one necessity is to create a brand like no other and manage a wide range of categories and products.
Design and UX
A captivating design and a good User Experience allow your customers to achieve their goal: complete their purchase. Even a minor detail can make a difference. If a user cannot understand how to navigate through your site and how to complete the purchase it's all fault of a bad design and an awful User Experience.
SEO
It is fundamental to be one of the first results in search engines. If you want to sell, you need to let people know you. We help you to improve your positioning in search engines through the right keywords, tags, meta tags and custom made strategies for e-commerces.
Management consulting
If you are an entrepreneur you know how much time and energies you need to coordinate an enterprise's resources and to improve its performance. You need several activities and monitoring created to fit your company in order to increase its productivity and achieve higher results. We're here to support you.
Legal advice
We offer legal advice for your e-commerce along with suggestions and best-practices to be taken into consideration.