We develop your E-commerce site with Magento
Year after year the number of people who decide to purchase products online becomes increasingly high. Would you blame them? E-commerce stores are open 24/7!
Not to mention that it's always possible to benefit from discounts and special offers. Moreover, an e-commerce store also affects offline sales.
As shown by the following table, in Italy (according to Assintel data) ecommerce shows an exponential growth rate.
If you aim to sell your products or services online, Magento 2 gives you a great opportunity to boost your offline business with an online store.
Magento 2 is a open source CSM with plenty of native features that offers you the opportunity to enter the e-commerce world in a intuitive, functional, performing and customizable way.
What are the benefits of Magento 2?
You can be a small business or a huge retailer, B2C or B2B oriented, either way, thanks to Magento 2 you can:
manage catalogues, users, shopping cart and payments in an easy and versatile way
make the most of the opportunities that marketing and SEO give you. Thanks to Magento, you will be able to manage information sitewide (for each page, section/sector, product) in order to optimize your positioning and indexing in search engines.
handle multi-channel shopping in the best way
custom your e-commerce store and create a unique one thanks to many modules, extensions, designs and themes, all specifically created for Magento
create multiple stores in different parts of the world thanks to the multistore functionality. This feature is for those who need an e-commerce store organized in different parts (according to the brand and the nation) but managed thanks to a single control panel and one inventory.
It is undeniable that Magento 2 has a lot of benefits, not only concerning performances and scalability, but also with regards to increasing conversions and improving your business agility and productivity.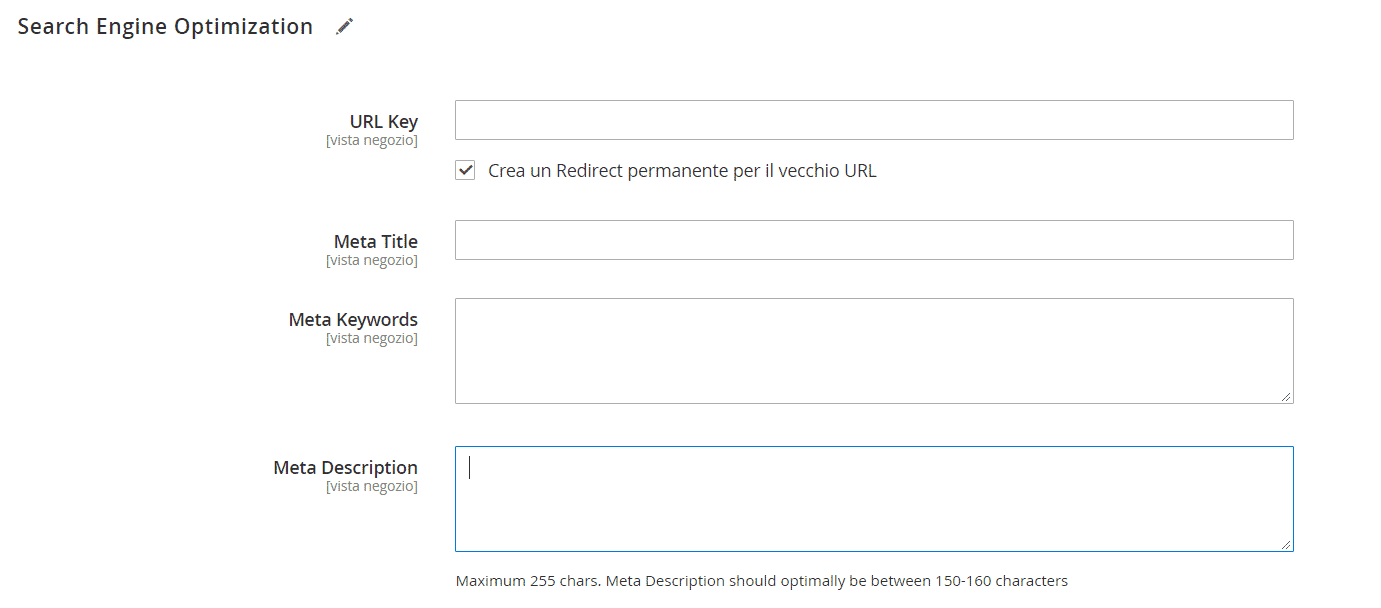 In questo screenshot si vede come sia possibile impostare, per ogni prodotto, tutti gli elementi essenziali per un ottimale posizionamento
Do you want to open your ecommerce store with magento 2? Are you wondering if it is suitable for your project?
When should you choose Magento 2?
Thanks to the many extensions, Magento 2 can easily be suitable for both a small store or a larger one, meeting all of their needs. It allows you to manage a large number of products. With regards to budgets, it can be affordable for medium sized or large companies. Magento 2 has 2 different versions: "Community edition" is free and has only a few functions and "Enterprise" subscription service with a multitude of features.
.
Which are the brands that have already chosen Magento 2 for their e-commerce store?
How can SocialCities help you with your Magento e-commerce?
We know that it's not easy to choose which platform is the best when you want to open an e-commerce store. However, we can tell you something for sure: if you are looking for multi-channeling, maximum integration capacity with any kind of softwares, Magento 2 could be perfect for you.
Thanks to our genuine support you will be able to have your custom made e-commerce site with Magento 2, one that meets your needs. Nevertheless, even if Magento is one of the best e-commerce platforms on the market, not a lot of professionals will recommend it to you, since it requires advanced programming skills. This is why we always offer you support when you choose Magento in order for it to work properly and achieve high standard performances.
Magento 2 is the perfect way to start selling your products online. Are you wondering how Magento could be a turning point for your business?